Painting New China: Renewal and Transformation of Guangdong Traditional Chinese Painting (1949-1978)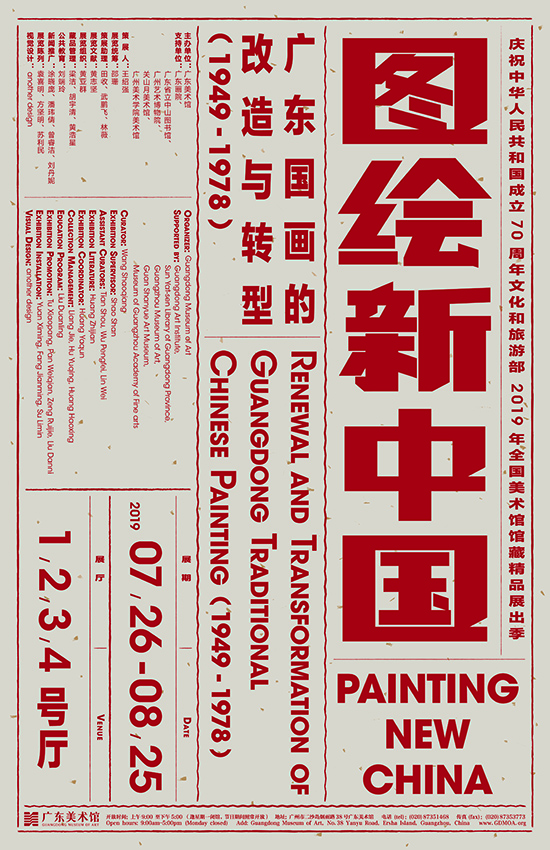 Time: 2019.07.26—08.25
Venue: :Hall1、2、3、4, Guangdong Museum of Art
With the establishment of a new direction for the development of literature and art after the founding of New China, artistic creation has taken a path to serving workers, farmers and soldiers, and to serving the development of socialism. Under this new backdrop, the traditional value orientation, evaluation system and aesthetic taste of the traditional Chinese painting have also undergone changes, which brought about the adaptive renewal in contents and ways of expression. Faced with this new task, artists in Guangdong actively participated in the process with a high sense of social responsibility and mission. Devoting themselves to exploring new artistic languages and themes, upholding the spirit of realism, and representing the theme of the times with unique pictorial language, they have managed to shape a new image of the country and the people, create various artistic works that have been keeping abreast of the pulse of society and reflecting the spirit of the times, and leave behind a cultural memory imprinted with the mark of the times. As the beginning of studying Chinese contemporary art, this period, as well as the mode and system that have been taken shape, are still significantly influencing today's mainstream artistic creation in different ways.
As one of the programs of the "2019 Collection Exhibition Season National Art Museums in China", this exhibition will display over 100 selected works collected by Guangdong Museum of Art and other art institutions. These works created by famous artists such as Guan Shanyue, Li Xiongcai, Yang Zhiguang, Lin Yong, Lin Fengsu and Wang Yujue offer a clear chronological summary of the artists' language transformation and shift of style in the process of their creations after the founding of New China, as well as their personal struggles and mental uplift in that specific period of history. The exhibition also aims to highlight the sense of responsibility and the spirit of independent thinking of Guangdong artists with the spiritual orientation, historical mission and awareness of social affairs embodied in their works.
Address: 38 Yanyu Road, Ersha Island, Yuexiu District, Guangzhou, Guangdong

Tel: 020-87351468

Free Admission: Audiences may visit by presenting valid certificate

Group Visit: Please make reservation by telephone two days in advance for any group with more than 10 people and visit the Museum at the agreed time by producing the confirmation message.