For Beauty is Nothing But the Beginning of Terror Maggi Hambling Paintings and Drawings, 1960-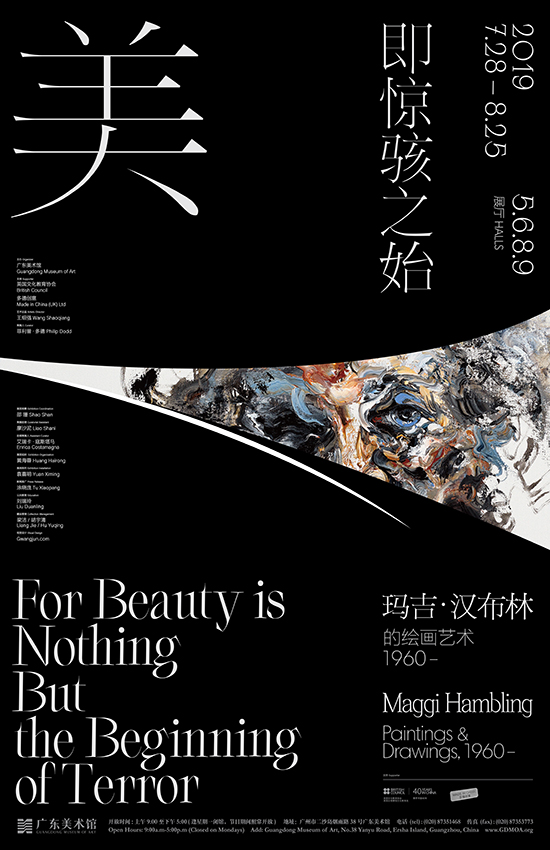 poster
For Beauty is Nothing But the Beginning of Terror
Maggi Hambling Paintings and Drawings, 1960-
time:2019.7.28-8.25
A contemporary painter and sculptor, and the first artist in residence at London's National Gallery, Maggi Hambling is an important figure in Britain's contemporary art scene. Her art practice ranges from oil painting and sculpture to drawing and print- making; and for her, art brings together forms of representation in various materials and media, certain abiding ideas, together with an experimental artistic spirit. Loyal to her conviction that "the subject chooses the artist, not vice versa", Hambling makes works with strong visual impact, with brushstrokes that are filled with intense emotion and the dynamic transformation of forms and appearances.
Lines are one of the most important elements in Hambling's work. With her eyes and hands, she plays with the abstract dimension of lines, through which she tries to embody the emotional knowledge of objects that she encounters. The Wall of Water paintings cannot help but remind us initially of the landscape of Katsushika Hokusai. But they are different. Hambling's water is more dynamic, as if trying to emphasise the powerful momentum of waves; all the thick brushstrokes indicate the difference, as well as the connections, between eastern and western civilisations.
In addition to oil paintings, Hambling has also made a huge number of drawings, which perfectly exemplify her understanding and creative use of lines. What might appear as casual lines can barely conceal – in fact reveal – the deep emotions and feelings the artist had for the people she painted. In the history of art, artists of the 15th and 16th centuries were more artist-like when they drew, and more artisan- like when they painted. In most cases, drawings that consist of lines are more intimate and instinctive, not subject to a determining will, and can thus give full rein to an artist's emotion and imagination. To some extent they are soliloquies of the artist's mind as it encounters another person or landscape. Through Hambling's drawings we can begin to make sense of her unadorned emotions and creative passion, indispensable in the making of art.
For Beauty is Nothing but the Beginning of Terror: Maggi Hambling Paintings and Drawings, 1960 —
is the artist's first large-scale solo exhibition in China, displaying a large body of oil paintings,
prints, drawings and sculptures. It is in one sense a comprehensive review of her artistic career since the 1960s. The exhibition derives its title from the great Austrian poet Rainer Maria Rilke's Duino Elegies. Meditations on life and the cosmos run through all the works in the exhibition and are illuminated by its title and by Rilke's great poem cycle.
Curated by Philip Dodd, this exhibition is another important international academic exhibition introduced by our museum in the wake of the Sean Scully solo exhibition. It is our firm belief that this show will serve as a bridge for Sino-European cultural and artistic communication, and will bring to our audience a visual feast by an important European artist, as well as a cross-cultural experience in contemporary art.
Address: 38 Yanyu Road, Ersha Island, Yuexiu District, Guangzhou, Guangdong

Tel: 020-87351468

Free Admission: Audiences may visit by presenting valid certificate

Group Visit: Please make reservation by telephone two days in advance for any group with more than 10 people and visit the Museum at the agreed time by producing the confirmation message.