Multifaceted Reflections in a Contemporary Context: 2016 Curators' Forum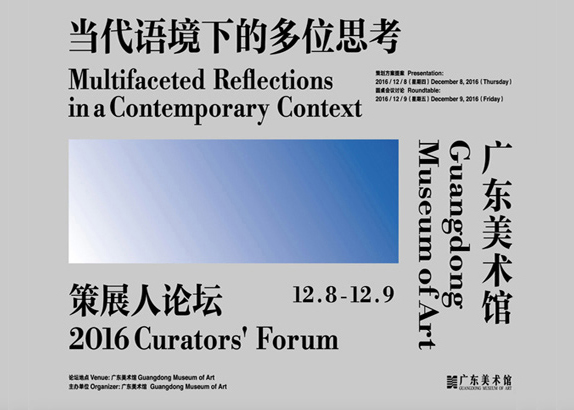 Guangdong Museum of Art has always attached importance to cooperation mechanisms with curators at home and abroad. At the First Guangzhou Image Triennial, it gathered curators and heads of art museums to discuss the globalization of contemporary art exhibitions and localization issues at the Conference of International Curators. As another academic brand of the museum, Guangzhou Photography Biennial Exhibition is equally committed to exploring an international horizon and actively introducing currently active curators and their exhibitions. In exhibition activities, the curatorial ideas run through the exhibition. Curators balanced art museums, artists, cooperative institutions, the public and the media by topic selection, academic thinking and personal capability. It requires to not only criticize and overturn, filter and integrate, but also act as a coordinator. Therefore, establishing an effective curatorial mechanism is a powerful guarantee to enable art museums and curators to work closely so as to present quality exhibitions that combine both knowledge production, visual experience and social effects. Based on the influence of participating delegates in the field of art and the academic quality of submitted topics, this forum will help seek an effective curating mechanism for laying down an academic foundation for long-term cooperation framework for art museums and curators and providing an important academic foundation and experience for the building of art museums.
Guangdong Museum of Art set the theme of this forum as "Multiple Thinking in the Modern Context." The term "Modern" is based on the present and contemporary times as a time frame. As technological leaps not only promote globalization and change people's lifestyles, high-speed networks, artificial intelligence, biogenes ... science and technology also offer boundless possibilities for art styles and media. There is an urgent need to strike a balance between an art form that tends to diffusive and a centralized art museum display. Therefore, how to construct a curatorial mechanism that is suitable for this era is the core of this forum discussion.
The forum consists of two parts: "proposal speech" and "special roundtable meeting". As the research and collection of the Guangdong Museum of Art focus on the modern and contemporary fine art, art and photography of coastal areas in Guangdong, speech topics of the forum consist of four parts, including Media Language and Curatorial Observations, Research on Art in China in the 20th Century, Regional Ecology and Case Studies and Modernist Art in China, which involve topics as Localization around the Global, From Virtual Photography to Virtual Reality in the Context of Modern Art, From the Origin of Art Exhibition in China in 20th Century to the Current Curatorial Practice, and Field Survey in Curatorial Practice and Study on Art History. The Special Roundtable Meeting will be discussed separately by Modern Group, Contemporary Group and Photography Biennial. Participants will discuss on the basis of Guangdong Museum of Art's own academic standards and direction of research and collection direction, for the purpose of future sequential selection, organization and presentation of exhibitions.
Guangdong Art Museum hopes that resources sharing will be maximized by communication and dialog through this forum to seek for new possibilities of curatorial methods so as to jointly promote the development of Chinese art and the construction of art museums.
Agenda
December 8, 2016, Thursday: Proposal Meeting
9: 00 ~ 9: 30: Opening Remarks: Wang Shaoqiang, Phillip Ziegler
9: 30 ~ 10: 50: Topic 1: Media Language and Curatorial Observations
Moderator: Shaoqiang Wang (Director of Guangdong Museum of Art);
10: 50-12: 10: Topic 2: Research on Art in China in the 20th Century
Moderator: Hu Bin (Deputy Director of the Art Museum of Guangzhou Academy of Fine Art)
14: 00 ~ 14: 10: Curator Engagement Ceremony
14: 10 ~ 16: 30: Topic 3: Regional Ecology and Case Studies
Moderator: Sheng Wei (Associate Editor-in-Chief of the Art Magazine, doctor of the Central Academy of Fine Arts doctor, and curator)
16: 30 ~ 17: 50: Topic 4: Modern Art in China
Moderator: Hu Bin (Deputy Director of the Art Museum of Guangzhou Academy of Fine Art)
Roundtable Meeting on December 9, 2016, Friday
9: 00 ~ 11: 30:
Modern Group: Moderator: Wu Hongliang
Topic: Emphasis and Director of Study on the Art History of the 20th Century
Contemporary group: Moderator: Fan Lin
Topic: Regional Ecology and Case Studies
Photography Biennial: Moderator: Gao Peng / Xiang Liping
Topic: Photography Biennale:
   1. Cross-media photography in the form of blending
14: 00 ~ 17: 00
Modern Group: Moderator: Cai Tao
Topic: The Exchange and Radiation Effects of Art in Modern China and Other Asian Countries
Modern Group: Moderator: Chen Dong
Topic: Media Language and Curatorial Observation
Photography Biennial: Moderator: Yang Xiaoyan
Topic: Photography Biennial:
   2. Possible Direction and Ideas for Planning the 4th Guangzhou Photography Biennial Exhibition
Opening hours:
9:00-17:00 from Tuesday to Sunday (closed on Mondays),No admission after 16:30
Address: 38 Yanyu Road, Ersha Island, Yuexu District, Guangzhou, Guangdong
Tel: 020-87351468
Free Admission: Audiences may visit by presenting valid certificate
Group Visit: Please make reservation by telephone two days in advance for any group with more than 10 people and visit the Museum at the agreed time by producing the confirmation message.