Inherit the Past and Usher in the Future—Exhibition of 20th Anniversary of the Founding of the Guangdong Museum of Art
Show Time: November 16, 2017—December 7, 2017
Venue: Exhibition Halls 5, 6, 8, 9
Academic Committee: Xu Qinsong, Li Jingkun, Wang Shaoqiang, Yang Xiaoyan, Feng Yuan, Li Weiming, Wu Hongliang, Jiang Yuzhi
Host: Guangdong Museum of Art
Curator in Chief: Wang Shaoqiang
Curator: Pi Daojian
Exhibition Coordinator: Jiang Yuzhi, Hu Yuqing
Curatorial Assistant: Tian Shou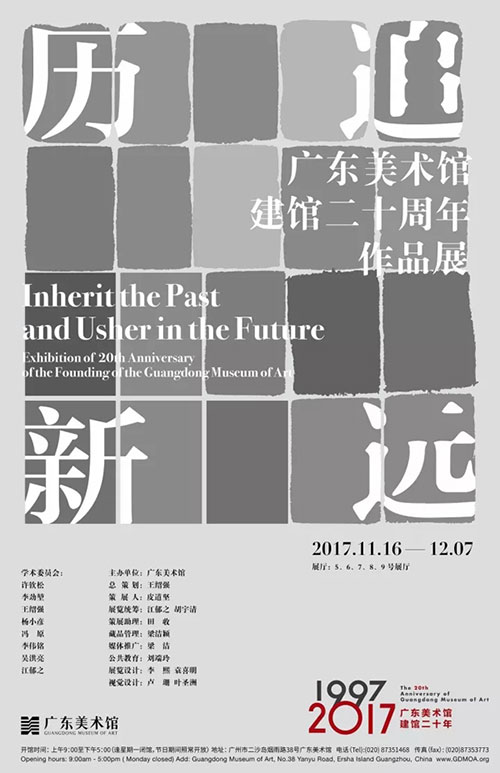 poster
Since the founding of Guangdong Museum of Art on November 28th, 1997, we've endured great hardships in pioneering work. On the occasion of the 20th anniversary of the founding of the museum, "Inherit the Past and Usher in the Future—Exhibition of 20th Anniversary of the Founding of the Guangdong Museum of Art" will be unveiled. The exhibition will showcase representative works of some 60 artists in Guangdong Province since the founding of New China selected from the museum's collection together with these artists' recent works. In so doing, it's hoped to sort out the language reforms and style shift along the journey of art creation, feel the artists' pulses and changes of ideology in different times, and highlight Guangdong artists' sense of responsibilities and spirit of independent thinking through the spiritual orientation, historical feelings and social concerns implied in their works. In addition, through the vertical sorting of art origins of these artists and horizontal comparison of these artists' language explorations in different times, it's hoped that the audience could feel the artistic evolutions in a real and concrete way from the rich and complex images. It aims to explore the dialectical relationship between social progress and artistic creation, establish a relatively complete logic in form and contents for the Guangdong art, and make it an important contribution of Guangdong Museum of Art to the research of modern and contemporary Chinese art history.
Address: 38 Yanyu Road, Ersha Island, Yuexu District, Guangzhou, Guangdong

Tel: 020-87351468

Free Admission: Audiences may visit by presenting valid certificate

Group Visit: Please make reservation by telephone two days in advance for any group with more than 10 people and visit the Museum at the agreed time by producing the confirmation message.